>Welcome!
We are an innovative and agile society and we support our clients to manage critical fields like Management (projects or processes), Development and Innovation. We put them at the center of our core processes and help them to integrate their needs. We provide them with the most advanced solutions and consultations.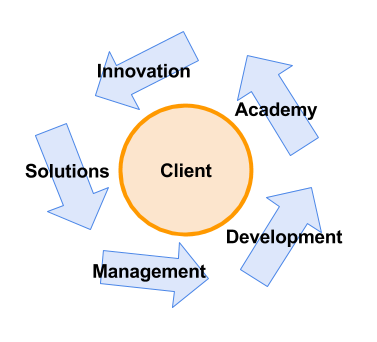 Management

Times are changing and the Time-to-Market is shorter than ever. To remain

competitive

, businesses are demanding three things from IT:

• Increase the revenues from existing services and products in the market.
• Use technology as a differentiator to innovate and create the next product or service.
• Reduce the cost on non-differentiating products, services and processes.


It is important for the organization to point a team or person responsible for guiding the strategy. IT-Solutions are not just a focus for IT, but should be part of a wider stakeholder discussion in order to align with business goals.
Development

To enable Business, we develop in a wide range of environments. Althought it, our research and technologies remain in

trend

with the actual changing times. The channels are:

• Desktop (Windows and Linux).
• Mobile (Android and Windows Phone).
• Web (Websites and Webservices).


IT is dynamic and we follow the most amazing news and propose you the right IT-Solution.
Innovation

We create and explore new business and client segments were nobody was yet. We build a network of solutions to response to problems, fulfill the lack of mixed knowhow and enable the birth and coexistence of etherogeneos processes.

Our keys to achieve this targets are:

• Research
• Innovation
• Integration
• Efficiency
• Experience


The same player for a variety of question in different fields make possible to reach a single and effective solution.
Academy

We are pleased to offer you powerful courses derived from our experience that we are sure they will improve your businesses and targets. They will open your mind and allow you to acquise new capacities to develop your ideas or better manage them:

• Actual (Trends) and usable (quick ROI)
• Possibilities to define the following modules
• Multilanguage (german, italian, english and spanish)
• Interactive
• Ispiring environment
• In groups or alone


In the courses you can explain your Business-Case and interact with the teacher to choose how you can use and maximize what you learned.
Solutions

We offer you valuable solutions developed from client needs and designed for a flexible future. Not always big companies produce big softwares that can accomplisch a good job for specific categories of clients or perhaps in the desidered mode. Here are some interesting categories of our own proposal for you:

• ERP to customize
• Management tools
• Applications out-of-the-box
• Modules as extensions
• Integrations as consolidation


We are open to speak with you about features, changes and the best price for you!
How to move inside the web site?
Our web site is organized in this way: on the top you will find the entries regarding our society whereas on the left you will those concerning information about our applications and communications to the clients.